Welcome! We're so glad you dropped by.
Our mission
To inspire all families to get outdoors in their backyards and create a more sustainable life. (No matter where you live!) Our belief is that you can do simple things every day to add to the health, sustainability of your family, and spark change in your community.
All good things are wild + free.
We couldn't agree more with Thoreau. This is at the heart of the WHY in Wild+Free.
This is at the heart for the connection between wilderness and freedom. Good lives require the balance of civilized and wild. The wild holds a place where you can rediscover yourself, a place for experimentation, or a place to bring about radical regeneration.
Lofty goals? Yes, every one. The time for this is now, as our children to grow, discover and learn and we continue building into the an outdoor, wild and connected family that we want to be.
Our story
What you have to know about my family – we dream big. And then we make it happen.
One month after our wedding, my husband and I left our Ontario urban life and headed to the mountains of Alberta in search of possibilities. One full of outdoor adventures, and a fixer upper house. We left everything and everyone we knew behind – 3,500+ km away – so we could make our family into one we've always dreamed of.
This road hasn't always been easy – we have come across a plethora of challenges that tested our relationship, and courageous spirit. That little voice that whispered "go west, you young married couple" didn't steer us wrong. We welcomed our hairy border collie, Milton to the family in 2010, and our two kids shortly thereafter.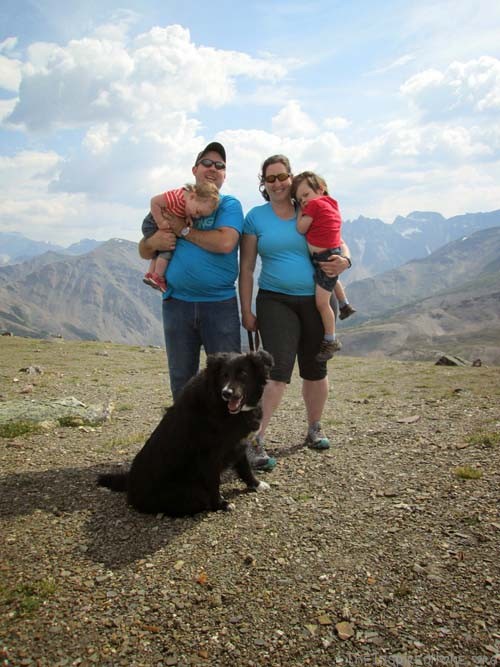 Building a Farm Dream
Even in our rural yet urban environment, we started growing our own food in the front yard and at the local community greenhouse association. We did everything we could to make family life sustainable – cloth diapering, canning bounty of BC fruit, and other little actions. These little actions that you can do anywhere sparked a bigger dream.
We started to dream of a small farm or acreage that we could shape and mould into a place where we could grow more of our own food, and create infrastructure to help us live a more sustainable life. A place where our kids could run free – and get many hours a day with nature.
Last year, we took another leap of faith and purchased a 1950s farmhouse and 12 acres of land that need a lot of love (and elbow grease) just out of Mayerthorpe, Alberta. This is an incredible change for two suburban Ontario kids, as we discover how to produce food for our family and adjust to rural, country life. Welcome to our story about WILD+FREE FARM, the joys and trials of what goes on here!